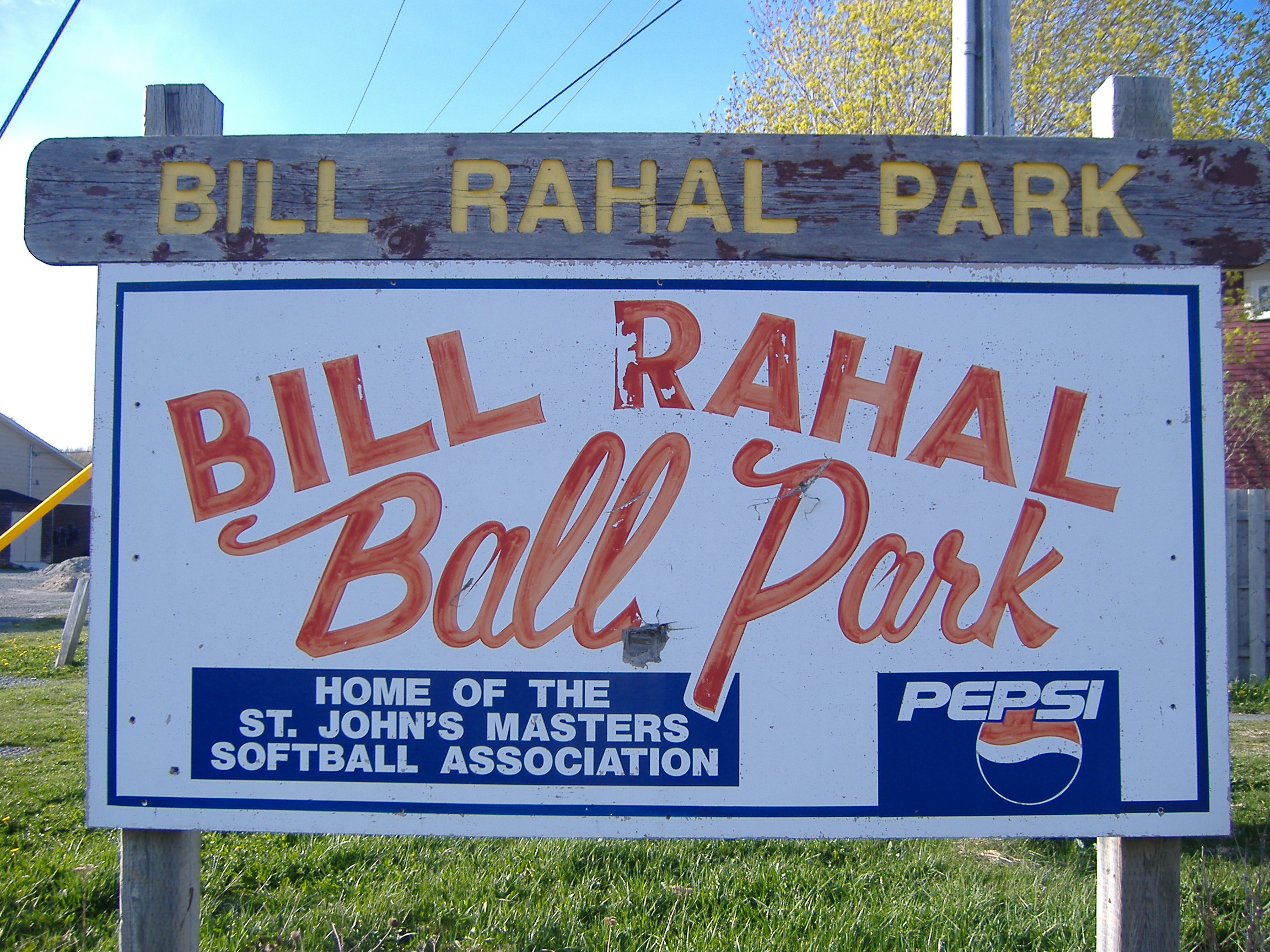 St. John's Masters
Softball League
• History • Article 1 - Our Little World • Article 2 - Field Officially Opened •
• Article 3 - Bill Rahal • Article 4 - League Starts •
• League Champions (on side bar) • Heart and Stroke Champions (on side bar) •

OUR HISTORY: ST. JOHNS MASTERS SOFTBALL
August, 2013
The following article pieces together old league notes, articles and information from the Telegram and Daily News newspapers, and discussions with players about the league. Sections in parenthesis are taken directly from notes. Comments and corrections are welcomed.
As legend goes, the league started with a game of pick-up ball in 1977 at Conway Glen, across from the Bally Haly golf course, however, formal records attribute the official first season as 1978. It was initially called the St. Johns Oldtimers League and often promoted as the Blue Star Oldtimers League. You had to be 35 or older to participate. (In the early 90s the league moved the entry age up to 40 years of age as it is today.) The idea for the league evolved from a few hockey playing buddies, gathered at the Kingsbridge Hotel, looking for something to do in the summer to keep fit. The key focus for the league was having fun, enjoying the company of good friends, and playing the developing but, some may say, less taxing game of slopitch softball, a new variation on the traditional version of fastpitch softball that many had played in their youth. Key organizers in the beginning were Tom Murphy, Reg Ryan, Hayward Dawe, and Fong Dowden. Tom Murphy was the president for the first two seasons, followed by Reg Ryan and Hayward Dawe. The first year consisted of four teams: Cabot Street, Knights of Columbus, Kingsbridge Hotel and VOCM/Holy Cross. Cabot Street was the champion in the first season.
The league moved to Pleasantville the following season, 1979, and spent four years there. Sponsors at Pleasantville, in order of appearance, were: Kingsbridge Hotel, Cabot Street, Dowdens Electric, Central Investigating, Foxhunt Lounge, VOCM, Bull and Bear, Austin Astros, Janes Ultramar, Hotel Newfoundland, Austin Advertising, Atlantic Place Barber Shop (Healys Barber Shop), ABCO, Martins Lounge, Harveys Oil, and City Security. The league grew from four to five teams in the second year, six in the third year, and then ultimately eight, by the fourth year, 1981, as there are today.
Dowdens Electric won the championship in 1979 beating Central Investigating in the final. Cabot Street won the championship again in 1980 beating VOCM in the final. Janes Ultramar won the championship in 1981 beating Austin Advertising in the final. Martins Lounge won the championship in 1982, in the final year at Pleasantville, beating Harveys Oil in the final. In 1981, the draft system was implemented.
"In 1981, the league made a proposal to City Council to develop city owned land behind Elizabeth Towers into a park complex, including a softball pitch. This four year project was approved by council and each year since our league (with help from council) continued work at the facility. League players raised the necessary funds and volunteered their labour to construct the softball pitch, which was completed in 1983. A core group of about 10 league players were instrumental in working to see the field completed to its present form."
The league moved to the new location, initially called Kent Place Park, behind Elizabeth Towers, in 1983. Dave Barrett, city councilor, threw out the first pitch that season as he had done since the start of the league. That year, the eight teams in the league were: Kingsbridge Hotel, Wometco (Coca Cola), Joes Place (Bull and Bear), Hotel Newfoundland, Janes Ultramar, Harveys Oil, Martins Lounge, and Dowdens Electric. The registration fee at that time was $50. During that season, three rookies from the Edmonton Oilers, Paul Coffey, Kevin Lowe, and Mark Messier were in attendance at a game. Mark Messier threw out the first pitch while Lowe and Coffey entertained in the field.
"Bill Rahal was a major part of the core group that developed the present site. He showed pride and dedication to the project. There were discouraging moments during construction and many felt that such a small volunteer group would not see it through. Bill and the group kept it moving. In the summer of 1983, Bill Rahal took sick with cancer. During that season, knowing he was quite sick but still working daily, our League Executive unanimously agreed to call the park after Bill, if he approved. When approached, Bill was overwhelmed with the offer. His first and expected reaction was "there are other guys on this project and in the league who deserve it more than me." After discussing it with his family, he agreed and on August 24, 1983, City Council approved our league recommendation to call the complex "The Bill Rahal Park"." Bill passed away shortly after the season ended in October. A monument was installed on the site dedicating the field.} Although the softball pitch was completed in 1983 and used constantly since by our league and minor leagues, construction on the total park complex continued. Given the fact that Bill Rahal was such a keen Boston Red Sox fan and no doubt had a great admiration for Ted Williams, we felt a Boston Representative to officially open our Park would be ideal' although we were not optimistic. Luckily, the Boston organization was favourable to the idea. Ted Williams was approached to do the honours and he agreed."
On August 9, 1985, Ted Williams, Boston Red Sox legend, officially opened the field, to be officially known as, the The Bill Rahal Park. Williams attended a luncheon at City Hall and that evening the league held a banquet at the Lester Hotel with Williams as guest speaker. Williams, an avid fly fisherman, was later entertained with a fishing trip to Labrador. Fong Dowden and Reg Ryan were in the fishing party.
Martins Lounge won the championship in the initial season at Bill Rahal Park in 1983 and in 1984, their third championship in a row. Kingsbridge Hotel won in the Ted Williams year of 1985. Fireside Inn won in 1986 and Alfa Pizza in 1987.
In 1988, the league introduced our championship trophy where the names of all subsequent champions have been inscribed. In commemoration of his significant efforts in getting the league started, the complex built and coordinating the Ted Williams visit, the trophy is named the Dave Fong Dowden trophy. Fong passed away after a long and courageous battle with cancer in 2005.
In 1989, the chalet building was officially opened with a dedication plaque commemorating the efforts of Hayward Dawe and Reg Ryan.
It was common for the league to hold tournaments with the proceeds donated to charities. In 1991, the league introduced a trophy for the Heart and Stoke Tournament, in memory of Cec Whittle, a longstanding Kingsbridge Hotel stalwart, who had passed away earlier that year from a heart attack. The Heart and Stroke Tournament continues to this day with a traditional $1,000 donation to the Foundation by the league.
In 1992, the League celebrated its 15th season and officially changed its name from the St. Johns Oldtimers Softball Association to the St. Johns Masters Softball Association. For the season opener, MHA Hubert Kitchen, Councilor Shanny Duff, and federal MP Ross Reid were in attendance.
In 1997, the league held a banquet at the legion in Pleasantville celebrating its 20th season. In 2002, the league held a banquet at the CEI club celebrating its 25th season.
For the Bill Rahal years, team sponsors, in order of appearance, were: Kingsbridge Hotel, Dowdens Electric, Joes Place (Bull and Bear), Janes Ultramar, Hotel Newfoundland, Martins Lounge, Harveys Oil, Wometco (Coca Cola), Fireside Inn, Mainline Distributing, Cabot Street, Murrays, Travel Management, Stokes, Provincial Beverages (Coca Cola), Hubleys Plumbing and Heating, Air Atlantic, Alfa Pizza, Cooperators, Tricco Electric, Continental Safety, Mister Submarine, Captains Quarters, Kings Plumbing, Tim Hortons, Sports Shop, Forest Road Convenience, Greensleeves, Apple Autoglass, Molsons, Canadian Home Furnishings, City Tire, Big Bens, Kyocera Mita, Keyin College, Provincial Airlines, Mr. Transmatic, Caines Grocery, New World Fitness, Rainbow Roofing, Toyota, Holdens Transport, Star, Pizza Hut, Pops Convenience, Quinlan Home Construction, Mount Pearl Dental, ABBA Movers, Rogers Rogers Moyse, Dawes Bodega, Humby Walsh, Pennecon Energy, West End Club, and TLC Nursing & Home Care.
[ Top of Page ]
The following article was published August 7, 2005, in the Independent, a St. John's, Newfoundland newspaper, no longer publishing.
"Our Little World"
St. Johns Masters Softball League offers older players an easy-going game, until the playoffs
By Darcy MacRae of The Independent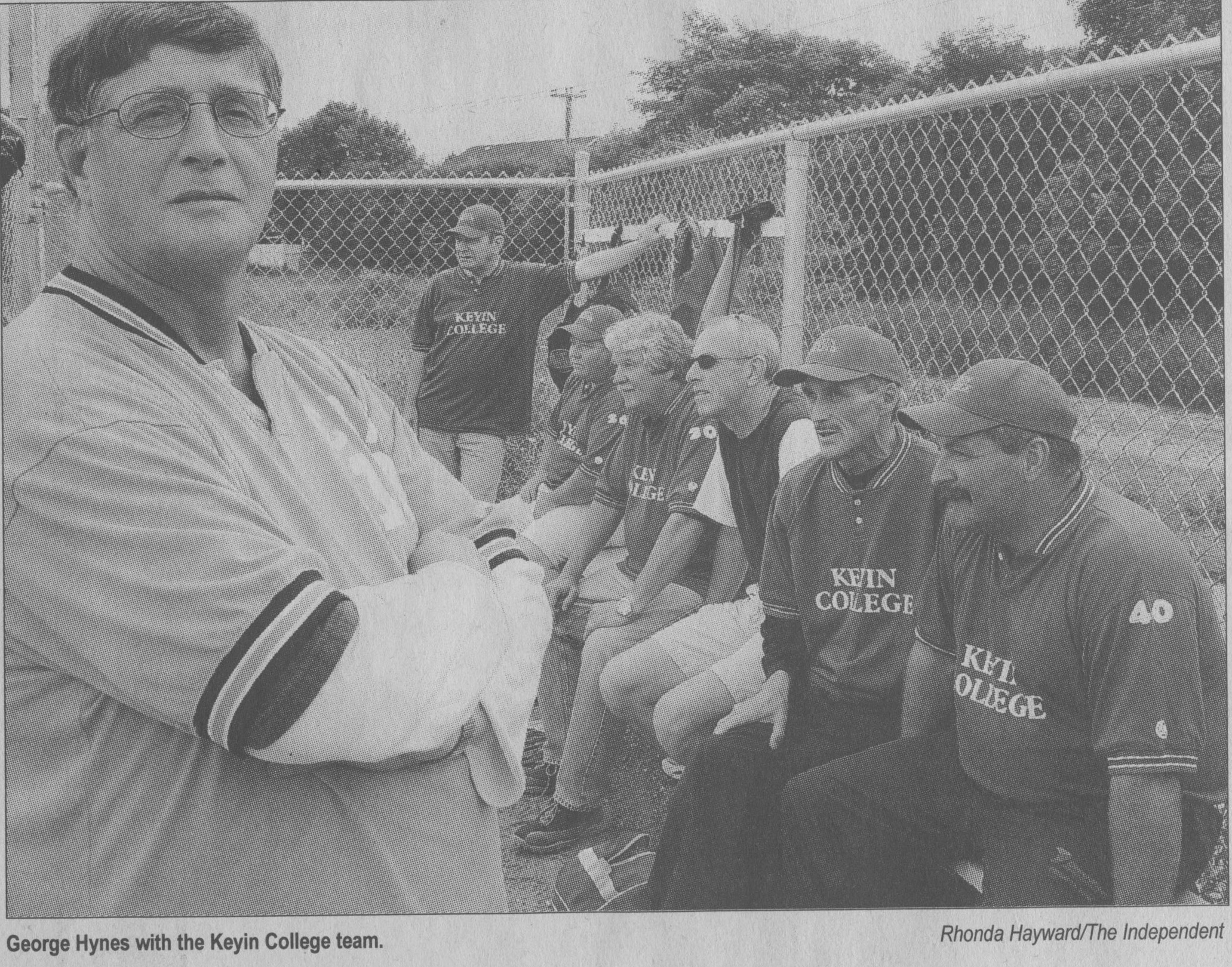 On a softball field tucked away behind Elizabeth Towers in St. John's, grown men gather most every night of the week to play a game they've enjoyed since childhood. Hidden from the view of passing motorists, Bill Rahal Park looks like something straight out of Field of Dreams (minus the corn of course). The field's bright green outfield grass and smooth-as-silk dirt infield, draw your eyes as you reach the end of the parking lot. Next comes the chatter of ball players cheering (and egging) each other on,. By the time you enter the park and take in the well maintained bleachers and top-of-the-line clubhouse, first timers are amazed at how many times they passed by the park without noticing such a beautiful softball field.
"It's like a little paradise," says George Hynes, president of the St. Johns Masters Softball League and player in the league since its inception in 1978.
For athletes like Shawn Skinner, the St. Johns Masters Softball League is the perfect way to remain active. After years of playing competitively in numerous sports, Skinner, an MHA, no longer has the same level of aggressiveness as he approached his 40th birthday. He wanted to continue playing, but had to find the right environment.
"I used to play soccer, softball, and baseball, but I didn't want to keep playing at a competitive level. I was looking for something that would keep me active," Skinner tells the Independent.
Upon joining the league four years ago, a circuit for players 40 and up, Skinner knew he had found exactly what he was looking for. The league had eight teams with each squad playing up to 40 games a season, a great field to play on, and a collection of rules that encouraged parity among teams.
Among the rules is a stipulation that a draft take place at the beginning of each season, with each club allowed to keep just two players from the previous year. The draft ensures no one team becomes too dominant and helps players to get to know their playing counterparts instead of building rivalries.
"That's the beauty of this league. It gives you a chance to associate with guys you only knew as a competitor the year before," says Skinner, who currently plays for Provincial Airlines. "It reduces the competitiveness. You don't build up really strong rivalries because of the turnover."
Hynes says the annual draft helps him reunite with players he suited up with in years past, including his days as a senior baseball player. It also gives him the opportunity to play with family members.
"I've got a brother and two sons in the league, so I try to play on a different team every year," says Hynes who plays for Canadian Home Furnishings this year.
Players in the league range in age from 40 to 76, so the playing ability of league members can vary wildly. Skinner says that while no player in the league would accept special treatment because of his age, there are circumstances that dictate some discretion.
"If a 70-year-old guy hits a ball into the outfield and I pick it up on one hop, I wouldn't try to throw him out on first base because he's a slow runner," says Skinner. "He runs to first and gets his base hit. Now if a 40-year-old does it, I'll probably try to throw him out."
During the regular season, the level of competitiveness is low, but once playoffs begin in the fall, players take things a little more serious.
"During the season, I'm competitive with myself because I want to do the best I can. I want to get my hits and I want to play well in the field," Skinner says. "During playoffs things get ramped up a bit."
The St. Johns Masters Softball League, which operates under slo-pitch national rules, also makes sure each player receives his fair share of plate appearances. At the beginning of each game, the player who was left in the on-deck circle the last time his team made an out in their most recent contest, hits leadoff with the players previously listed behind him following suit.(The league has also introduced a sitout rule for playing in the field.)
"We all pay the same amount of money to play, so we all play an equal amount," says John Dawe, vice-president of the St. Johns Masters Softball League and a long-time player.
The league has seen many changes since its debut in 1978, including the introduction of wooden bats just last year. But the biggest and most productive change was way back in 1983 when the St. Johns Masters Softball League completed construction of their own field on Elizabeth Avenue. Fund raising and government grants paid for the complex, which now includes a two-story clubhouse. The league has its own maintenance equipment and crew, and members take great pride in playing at such a nice facility.
"It's a great field to play on," Skinner says. "We really enjoy playing on it. "
The park is named after Bill Rahal due to his outstanding contributions to the league before his death in the early 80s following a battle with cancer.
"He had cancer but he was still out on the field laying sod," Hynes says.
The complex was officially opened by Major League Baseball hall of famer and former Boston Red Sox great Ted Williams in 1985. Hynes says the mood on the day Williams was on hand was one of excitement and joy, much like the atmosphere that surrounds the league today.
"This is our little world," Hynes says. "Everybody here, they just love playing in the league. It's relaxing for them."
[ Top of Page ]
The following article was published Saturday August 10, 1985, in the Evening Telegram, a St. John's, Newfoundland newspaper.
Williams officially opens Rahal Park
By Robin Short of the Evening Telegram
Major League Baseball Hall of Famer Ted Williams concluded a busy schedule in St. John's Friday with the official opening of the Bill Rahal Memorial Softball Park.
Williams, a veteran of 19 seasons with Boston Red Sox, is in St. John's as a guest of the St. Johns Oldtimers Softball League. The park, which is named after the late Bill Rahal who was a driving force behind the league in its expansion, is used by the oldtimers league.
Earlier in the day, Williams had breakfast with the Rahal family and then gave batting tips at St. Pats Ball Park to the Terra Novas, Newfoundlands baseball team which will compete in the Canada Summer Games. He attended a luncheon at City Hall at 12:30 pm and then held a news conference. After officially opening the park, Williams was guest speaker at a banquet at the Lester Hotel.
Williams, who was the last player to hit over .400 in the major leagues, batting .406 in 1941, said it is unlikely that another player will reach that feat.
"In order to hit .400 these days, a player must have an extremely lucky year with a lot of breaks to even come close to .400," said the San Diego, California native.
Practice Key
Williams said that the key to his success in the major leagues was the fact that he always practiced swinging a bat as a youngster.
"I used to get up really early in the morning and be in school even before the janitor. I'd grab my bat and just practice my swing pretending there was an imaginary pitcher throwing the ball. I always had a bat in my hand," he continued.
Williams twice won the American League most valuable player award and was a two-time recipient of the triple crown (top batting average, most runs batted in, and most homeruns). Williams' career included six batting titles, four home run titles, and four runs batted in crowns. He finished his career with 521 homeruns, 1,839 runs batted in and a .344 lifetime batting average. All this was accomplished despite the fact that he lost close to six seasons because of military service and major injuries.
Williams admits that Bob Feller and Herb Score, who both pitched with Cleveland Indians, were two of the toughest pitchers he's ever faced.
"There was never any pitcher that I really feared facing except someone who was really wild. However, Feller and Score were two of the toughest. Feller had more overall stuff than any other pitcher I faced. He had a great fastball and terrific curveball. There was never a pitcher I faced like him before," said the 66-year old Williams.
He said that Mickey Mantle was one of the better players that he had played against.
"When you talk of the greatest players of all time you have to put guys like Frank Robinson, Mantle, Willie Mays, Stan Musial and Hank Aaron at the top and then you have guys like Roberto Clemente who are just a step down. There are so many it is really hard to name them all," he noted.
"There are some tough pitchers playing today such as Nolan Ryan, Dwight Gooden, and Rick Sutcliffe. I can't name names because I haven't seen them enough," Williams continued.
Williams who was a fighter pilot during World War II states that his most memorable moment was his game winning home run in the 1941 World Series.
"Claude Passeau of Chicago Cubs, who was always tough and who had struck me out in my previous at bat worked a two and one count on me. He then came in with a sliding fastball and I swung an all-out home run swing. It was my most thrilling moment and the kind of thing a kid dreams about," said Williams, who owns a real estate agency in Florida and runs a baseball school in Massachusetts. He also works with young Red Sox hitters during spring training.
Concerning the recent major league players dispute with the owners, Williams said, "I can't really comment on the dispute because I was not sure of the details. Hopefully this strike won't be permanent in nature and will not disrupt the game. I hope that some money will be directed to the older players who deserve every consideration from where they stand," said Williams who also had managing stints in Washington and Texas.
Williams an avid fisherman who has written three books on fishing, will travel to Labrador to do some fishing with Dave Dowden and Reg Ryan, two members of the oldtimers league executive.
Williams does not have any plans set for today.
There was also included with the article a picture of Bill Rahal's wife Edith next to the monument at the Bill Rahal Park with the following, Mrs. Edith Rahal, wife of the late Bill Rahal, is all smiles Friday night after baseball great Ted Williams of Boston Red Sox officially opened the Bill Rahal Softball Park which is home to the St. Johns Oldtimers Softball League. Rahal was a former player with the league and an avid fan of the Red Sox. He died two years ago.
[ Top of Page ]
The following article was published Tuesday October 11, 1983, in the Evening Telegram, a St. John's, Newfoundland newspaper. As a side note, that year, our season ended Sunday October 2, when Martins Lounge defeated Coca Cola to claim the championship.
Former Catcher Dies
Billy Rahal, former outstanding catcher with St. Pats in the St. Johns Senior Baseball League and with the St. Johns Capitals in provincial playoffs, died Sunday night at the Health Science Complex.
Rahal, 52, passed away after a lengthy battle with cancer.
He started playing baseball with St. Pats in 1952 and continued his all-star performances through to the mid-1960s. Rahal was well respected by all who played with him and against him because of his gentlemanly conduct at all times and the effort he put into each and every game.
"He wasn't the holler type guy but he was very, very competitive," said longtime teammate Mike Martin. "He started catching for me when I started pitching in the early 1950s. I must say, it was a pleasure to know Bill and to play with him. I think anyone who played with him will tell you that."
"He always played to win, ever tough, you would never know it because of the low profile he always kept," added Martin. He never wanted to quit. Even this past summer, he started playing in the oldtimers league with us. He told me he wanted to play because he enjoyed the game so much. We never did play on a city championship team together and only last week we (St. Pats) won the oldtimers (baseball) championship but Bill was too sick to be with us. "
"We all knew he wouldn't be with us much longer but we didn't think it would happen this soon," said Martin. "He was a gentleman."
"I've known Billy Rahal ever since I started playing baseball and he was the type of guy anyone would love to have on his team," said Robin Short, president of the St. Johns league. "I played against him for many years and I also played with him on the Capitals and I never heard one person speak a negative word about him. That will tell you the type of person he was. He put everything into the game and in his own quiet way just went about his own business."
Short said Rahal played both oldtimers baseball and softball this past summer.
"He started the season playing although he must have found it hard, but that will tell you the kind of competitive spirit he had," added Short. "When he couldn't play anymore he coached his softball team up to just a few weeks ago. Baseball will miss Billy Rahal."
Leaving to mourn are his wife Edith, son Todd and daughters Vicki, Ellen and Theresa. Remains are resting at Barretts Funeral Home.
Funeral Mass will be held at 9:30 am, Wednesday from the Basilica, interment in the Holy Sepulchre Cemetary.
[ Top of Page ]
The following article was published Saturday May 28, 1983, in the Evening Telegram, a St. John's, Newfoundland newspaper
Opening will have special meaning for city's oldtimers softball league
By Bernie Bennett of The Evening Telegram
It all started five years ago with general chit-chat over a round of brews at the Kings Bridge Hotel. Today, the St. Johns Oldtimers Softball League is one of the most popular in the city.
The league will be starting its sixth season Monday night and the opening will have special meaning because this year the players will be having their fun at a ballpark which they planned, funded and constructed themselves.
The beautiful new park, located behind Elizabeth Towers, can be compared to the best parks in the city and there are plans for still further development.
The league started with four teams in 1978, operating at Conway Glen Park for the first year and at Pleasantville for the last four. This season they will be playing at their own park with eight teams.
"We have 16 players on a team, making it 128 players in the league, all 35 years of age or over," said league president Hayward Dawe. "We would certainly have more players and teams but under the present concept we can't accommodate them."
Two games per night are played Monday to Thursday, giving each team two games a week. The players have weekends free except those who wish to play in special tournaments.
"We have a long waiting list of players wanting to get into the league and we had to return the registration fee to 15 or 20 this year because we couldn't fit them in," explained Dawe. "It all came about through word of mouth, we never advertised, it just spread around town."
$50 REGISTRATION FEE
Each player pays a fee of $50 for the season and that covers all expenses.
"The registration fee covers the cost of balls and we have a fulltime paid umpire and scorekeeper," added Dawe. "Of course the boys did a lot of work on sweeps to raise funds for the new field during the past two years."
All teams are selected through an open draft. They play three rounds and all eight advance to the playoffs with first place playing eighth, second playing seventh, and so on.
The team sponsors this year are: Wometco, Hotel Newfoundland, Martins Lounge, Janes Ultramar, Harveys Oil, Joes Place, Kings Bridge Hotel, and Dowdens Electric.
Councillor Dave Barrett will throw out the first pitch to get the season underway Monday night as he did for the first five seasons. However, Dawe said they have elaborate plans for the official opening of the park later in the season. That's when the park will officially get its name.
Tom Murphy, former outstanding St. Bons athlete, was president of the league for the first two years, while former Grand Falls athlete, Reg Ryan, held the top post for the past two years before Dawe took over last year.
Ryan and Dave Dowden headed up the committee which planned the development of the new park over the past two years.
"A lot of money, time and effort has gone into the park," stated Dawe. "Right now it is as good as the Lions Park and we aren't finished yet."
"It was just an old piece of property situated behind Elizabeth Towers which didn't have any use," explained Ryan who drew up the proposal for the development of the property for City Council. "We met with residents around the property to explain our plans and that went well. Construction of the park started last spring after we received approval from Council."
Ryan said they are taking the same approach as that of the Lions and Kinsman clubs when they develop property in the city and then turn it back to Council.
"But it will be primarily for our use," added Ryan. "It will be made available to others in consultation with Council. The wives and girlfriends of the players will be using it Friday nights, but it will be open most weekends to other groups, but not organized senior leagues. We will be encouraging minor leagues to use it during the summer months."
MORE DEVELOPMENT PLANNED
Ryan said further development calls for a jogging track to be put around the park and picnic tables be put in place. They received a small federal grant last year and hired a couple students to work on the park.
"Other than that it was all volunteer work by players in the league and business people," continued Ryan. "The toughest job was getting the rough piece of property leveled and getting the proper drainage. We bought the sods and the players laid them. We received considerable help in different areas from Council."
He said most of the fencing around the park was donated but they had to pay the full price of $4,000 for the backstop.
"We organized sweeps and had other different ways and means to raise the funds," added Ryan. "The players in the league worked for what they have. Without exaggerating, when the park is completed, it will be a piece of property worth $125-$150,000. I think residents in the area are quite pleased with it. It will add to the value of their own property."
[ Top of Page ]
League Champions
2019 - Holdens Transport
2018 - Mount Pearl Dental
2017 - Holdens Transport
2016 - Caines Grocery
2015 - Provincial Airlines
2014 - Keyin College
2013 - Quinlan Home Construction
2012 - Quinlan Home Construction
2011 - Toyota
2010 - Provincial Airlines
2009 - Keyin College
2008 - Holdens Transport
2007 - Rainbow Roofing
2006 - Mr. Transmatic
2005 - Provincial Airlines
2004 - Travel Management
2003 - Kyocera Mita
2002 - Tim Hortons
2001 - Travel Management
2000 - Tim Hortons
1999 - Canadian Home Furnishings
1998 - Molsons
1997 - Tim Hortons
1996 - Captains Quarters
1995 - Mr. Submarine
1994 - Tim Hortons
1993 - Kings Plumbing
1992 - Tricco Electric
1991 - Kings Plumbing
1990 - Mr. Submarine
1989 - Mainline Distributors
1988 - Provincial Beverages
1987 - Alfa Pizza
1986 - Fireside Inn
1985 - Kingsbridge Hotel
1984 - Martins Lounge
1983 - Martins Lounge
1982 - Martins Lounge
1981 - Janes Ultramar
1980 - Cabot Street
1979 - Dowdens Electric
1978 - Cabot Street
[ Top of Page ]
Heart and Stroke Champions
2019 - Humby Walsh
2018 - West End Club
2017 - Holdens Transport
2016 - Holdens Transport
2015 - Holdens Transport
2014 - Holdens Transport
2013 - Keyin College
2012 - Pizza Hut
2011 - Toyota
2010 - Provincial Airlines
2009 - Star
2008 - Caines Grocery
2007 - Toyota
2006 - City Tire
2005 - City Tire
2004 - Tim Hortons
2003 - Canadian Home Furnishings
2002 - Molsons
2001 - Travel management
2000 - Greensleeves
1999 - Molsons
1998 - Sport Shop
1997 - Captains Quarters
1996 - Tricco Electric
1995 - Tricco Electric
1994 - Kings Plumbing
1993 - Mister Sub
1992 - Mister Sub
1991 - Mainline Distributors
[ Top of Page ]